The BATESIAN Team
The BATSIAN Team is a group of young and independent filmmakers in Vienna, Austria. Our roots are in kino5, a part of the international  "Kino" movement. The Team is a network of professionals, amateurs and cinephiles. We are planning this innovative film project to give you and us the chance to produce our first feature film together.
If YOU want to participate or help, follow this link where we explain how you can join our team :)
Matthias Lindenthal
After school I started to work on interdisciplinary festivals focusing on theater and performing arts. Joining the Kino movement four years ago when I moved to Vienna marked my first contact with video production. I became what we kinoites call an "infected". Kino to me is not just an opportunity to get involved in literally hundreds of video productions but also developing a new way of collective working methods and visual expressions. (Video-)post-production became the center of my work, especially compositing and animation.
Five movies worth seeing:
Bin-Jip (3-Iron) – Kim-Ki-duk
Steam Boy – Katsuhiro Oromo (I love the whole SteamPunk universe)
Underground – Emir Kusturica
Dead Man – Jim Jarmusch
Malcolm X – Spike Lee (actually all of his movies)
Synes Elischka
Ever since I made my first experiments as a filmmaker I've been enthusiastic about the collaborational aspects and as a consequence I have always assigned the dynamic group-building process the highest priority when working as a film director.
I thrive on the premise that only by combining the talent, experience, life-story and vision of many outstanding individuals we create true cinematic experiences: when a bunch of strangers work together, we can create something that's much greater than the sum of its parts.
I've initiated and helped carry out various projects within the Kino movement and Nisi Masa since 2005 and set up a small production company during my studies in Buenos Aires (in 2006) called SanTelmo Productions.
In 2009 I've founded the International Random Film Festival together with my colleague Hannaleena Hauru, a film festival that takes place at a different random location worldwide each year.
Check out some of my films.
Top 7:
B.I.K.E. – Anthony Howard, Jacob Septimus
Akira – Katsuhiro Ohtomo
Gadjo Dilo – Tony Gatlif
Brazil – Terry Gilliam
The Host – Joon-ho Bong
Children of Men – Alfonso Cuarón
Kaiba (Series) – Masaaki Yuasa
Judith Meister
Since I remember I've been into arts. When I was younger it was more about painting and photography, but when I started to study film and theatre theory in Vienna the urge grew to make movies. 3 years ago I came across the Kino movement and got stuck there ever since! The multicutural participants who share similar ideals and the opportunity to be a part of so many different projects on various spots in the world is what makes Kino so special to me.
I love to create ideas and stories, shoot and direct.
Movies i've watched so many times that they are probarbly my favorites:
Mullholland Drive – David Lynch
Paris,Texas – Wim Wenders
Sans Soleil – Chris Marker
8 1/2 - Federico Fellini
Rumble Fish – Francis Ford Coppola
The Big Lebowski- Coen Brothers
Matthias Glanznig
Member of kino5 since the end of 2009. I love narrative cinema. Especially when a movie can be both complex and easy to get at the very same time – also depending on your mood while watching it. And yes, in some way this is just the type of movie I'm hoping to move closer to with every new attempt. Also I do believe that filming takes too much time to stay too serious and sometimes I just like doing bullshit…
5 movies I very much enjoy:
Sunset Boulevard – Billy Wilder
The Party – Blake Edwards
Requiem for a Dream – Darren Aronofsky
Fight Club – David Fincher
Mononoke-Hime – Hayao Miyazaki
Ioana Tarchila
Since I heard about KinoDynamique, I wanted to bring it back to my hometown, in Romania. At KinoDynamique I developed my first independent concept, met a whole network of people interested in film and most importantly got creative sharing ideas. I study in Vienna film theory, tried it out also in Italy but I aim actually to practice this field. So I have the opportunity to do it with kino5.
On the set I do mostly camera and in postproduction, editing. I'm a very active person and like to always run.
Interests: besides film, long- and snowboarding, riding and building bicycles, languages.
Films I like a lot:
Silent Wedding – Horatiu Malaele
Reconstituirea – Lucian Pintilie
La citta delle donne – Federico Fellini
Black cat, white cat – Emir Kusturica
Nuovo cinema paradiso – Giuseppe Tornatore
Kynodontas – Yorgos Lanthimos
Zamri, umri, voskresni! – Vitalij Kanevskij
RRRrrr!!! – Alain Chabat
Philipp Kaindl
After having studied something completely different, I co-founded kino5 and started making short films in Vienna in 2004…
New ideas together with a good story and the emotions they trigger are what fascinates me in the films I watch. I also have a soft spot for the absurd and the slow – both can work wonders if the timing and the dosage are right. So far, I have been using film to experiment with different ideas. The film I really want to make is still in my head (and some parts of it on paper).
I'm really looking forward to the script-writing phase of BATESIAN: piecing together and developing the episodes will be a great challenge and I'm very curious about the outcome.
Some of my favorites (in the current state of mind):
Eternal Sunshine of the Spotless Mind  – Michel Gondry
2046 – Wong Kar Wai
Boris Ryzhi – Aliona van der Horst
Le conseguenze dell'amore – Paolo Sorrentino
The Man Without a Past – Aki Kaurismäki
Trollhunter – Andre Ovredal
Charm's Zwischenfälle – Michael Kreihsl
Pi – Darren Aronofsky
Dial M for Murder – Alfred Hitchcock
Matthias Kobia
As  long as I can remeber I was always fascinated by movies, the stories and the way they are told. Probably that's why I started to study movie theory in 2007. In the last years I realised a couple of movies and projects and and I'm still one of the infected ones and will probably never want to do something else. I love a collaborative and creative way of working and the international exchange of talent and ideas.
I heard of the concept of kino5 and the Kino movement 3 years ago and I'm hoping we can carry the concept out in the world and get more people infected.
6 of my favourites:
Delicatessen – Marc Caro, Jean-Pierre Jeunet
La Haine – Mathieu Kasovitz
Mr. Nobody – Jaco von Dormael
The Fall – Tarsem Singh
12 Monkeys – Terry Gilliam
Sen to Chihiro no kamikakushi – Hayao Miyazaki
Julia Sternthal
By coincidence I was asked to act in a KinoKabaret movie (though I am not at all an actress). I immediately got infected by the idea how the kino movement is doing movies: "Do well with nothing, to better with little, but do it right now!" Since 2006 I am an active member of kino5 and organise the monthly screenings at the Schikaneder Kino.
So far, I collected all my film experiences during the KinoKabarets in Vienna and in other cities. For me, ideas grow in a dialoge with others and collabroative filmmaking always worked out fine for me.
Besides kino5, I am studying Theatre-/Film-/Media-Studies and work in a private video store. Of course I love watching movies but music is also part of my daily life!
Here are some of the movies I have done.
www.vimeo.com/jukishu/videos
www.daazo.com/film/2f30458e-644b-102c-a455-000e2e531ae0/
Top 5 Movies
Nói albínói – Dagur Kári
Dogtooth – Giorgos Lanthimos
Mutual Appreciation – Andrew Bujalski
Love Exposure – Shion Sono
Anvil – Sacha Gervasi
Top 100 movies (my recommendations of the video store I am working at)
www.oz-cinethek.at/recommendations.php?more=3
David Rodriguez
Since i was a little child, movies have been my greatest passion. After just watching a lot of movies during several years like an addict, i started to shoot skatevideos myself. Since 2006 I write and direct my own short movies. Since my first contact with Kino5 and the following experiences during the KinoKabarets i felt deeply in love with this familiar and sheltered way of filmmaking. The spirit of doing movies with very little resources, in a short time seems to me to be a direct and pure way of being creative. Telling stories with pictures is for me the most direct way of expressing emotions. I belief in this project and i think it is a very innovative way of filmmaking.
Some of my favourites
Solaris - Andrei Tarkowski
Meet the Feebles – Peter Jackson
Midnight  Cowboy – John Schlesinger
Parque Viá – Enrique Rivero
the Idiots – Lars von Trier
Bad Lieutenant – Abel Ferrara
Faustrecht der Freiheit – Rainer Werner Fassbinder
The Elephant Man – David Lynch
Bring me the Head of Alfredo Garcia – Sam Peckinpah
Dersu Uzala – Akira Kurosawa
Selina Baumgartel
I´m a real visual kind of person. When someone tells a story I always have a lot of pictures in my mind. Maybe that's why I´m really into movies and photography. Its brilliant, if pictures narrate a movie. I´m impressed by documentary films that create feelings like narrative ones. A topic I´m keenly interested is queer & gender studies especially in film and performance.
The first time I realized a film idea was at KinoDynamique in 2009. Since then I did a lot of kino kabarets. I really like the collaborative-concept, so I want to be part of spreading it to the world :-)
5 films that I really like:
Sedmikrásky – Věra Chytilová
Bombay Beach – Alma Har'el
Cry Baby – John Waters
Fried Green Tomatoes – Jon Avnet
To Be or Not to Be – Ernst Lubitsch
Lili Schagerl (Graphics and Illustration)
Working with kino5 since Spring 2011.
I work mostly for creative people such as musicians and dancers; I'm interested in giving a good idea a shape, to make it visible. It's very important for me to like the project I'm working for and I like the world of film where many different arts form something new.
I like dreams, good books and stories, pole dance, drawing, watching people, movies and things.
www.lilischagerl.at
Films I like:
The Sparrow – Johnnie To
Arsenic and Old Lace – Frank Capra
Il gattopardo – Luchino Visconti
Caravaggio – Derek Jarman
Don't Look Now – Nicolas Roeg
Haruna Honcoopová
My road to the film world was long but straightforward. I studied Chinese and started translating Asian films for different film festivals in the Czech Republic a couple of years ago. I immersed into the film making world when I worked at various film festivals. While travelling to many countries around the world, I started making my own documentary films. In 2011, I met Synes at a NISI MASA workshop and he introduced me Kino movement idea and invited me to attend KinoDynamique in Vienna. Shortly after this enchanting experience, I founded Kino Praha and organized the first international KinoKabaret in Prague. I love the idea of kino movement, the independent short film production and networking internationally. I believe that the BATESIAN project is an essential step towards feature filmmaking within the kino movement.
My top 5 films:
1. One Flew Over the Cuckoo's Nest – Milos Forman
2. Europa – Lars Von Trier
3. Libanon – Samuel Maoz
4. Rashomon – Akira Kurosawa
5. Barking Dogs Never Bite – Bong Joon-ho
Sorina Diaconu
Graduated the National University of Theatre and Cinematography – UNATC "I.L. Caragiale" and the National University of Bucharest – MA in Scriptwriting, BA in Theatre Studies and Foreign Languages. Worked as PR, literary secretary, translator (English and Spanish), writer, script consultant, assistant director and producer, online manager and volunteer coordinator for national, international and independent theatre and film productions. Keen participant at workshops dedicated to script development, currently working on her first feature and collaborating on an anthropology doc series. Sweet toothed leisure swimmer with a soft spot for music jam sessions.
Sorina about BATESIAN:
I instantly fell in love with BATESIAN when I read the well crafted rules of the world and the challenging call for treatments, with its broad perspectives on collaborative filmmaking. I've always wanted to be part of such an experience, as I believe diversity and multitude can result in a strong creative community. For me that means both personal and professional growth. Apart from the pure thrill of populating and making an invented world believable, I found the rhythm and the strategy designed by kino5 in the writing/re-writing and selection process to be very compelling. That is what made me study their work and the whole kino movement around the world.  I'm looking forward to work with and learn from such a powerful and ambitious team.
Sorina's treatment: Side effects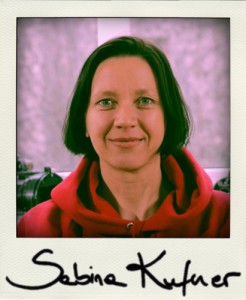 Sabina Kufner
Sabina studied literature at the LMU Munich, followed by postgraduate filmmaking at New York University. After directing, editing and producing several student films in the USA and Europe, she worked as a producer in the documentary sector in Berlin and gained experience as assistant director in full length feature film production. Today, she focuses on her film and theater work and  enjoys co-writing a full feature script with a highly gifted American scriptwriter. With her Munich based artist group "Boissemble", she is currently producing the cross-sectoral video-stage project "Freaks of Control."
Why am I all into BATESIAN?
The concept of making our world an arena of possible skills transfer has immediately inspired my imagination and desire to participate in the BATESIAN project. Particularly the premise of bringing a futuristic sci-fi idea to the "here and now" appealed to me, giving me the heebie-jeebies – just how endless are the psychological dimensions gonna be?
The collaborative approach as implemented by BATESIAN is an excellent opportunity for creative talent to support each other, exchange experiences and learn from each other during all stages of the filmmaking process.  I love being part of the BATESIAN experience!
Sabina's treatment: Home of the Future´s Past
text coming soon
Ilja Rautsi
Ilja is a Finnish screenwriter and occasional director. He's currently making a feature documentary, while also developing  his MA film at Helsinki Film School. Working behind enemy lines, Ilja earns a living as a film critic. He likes Charlie Kaufman and He-Man.
Bálint Márk Túri
He was born and grew up in Hungary where he studied psychology and scriptwriting. He absolved  his bachelor studies in Film Directing in Paris at the International Film School of Paris (EICAR). Currently he is doing his master studies at the Dutch Film and Television Academy (NFTA) where he is researching non-linear storytelling. He made several short films and music videos that have been successfully participating in film festivals across Europe.
Bálint about BATESIAN:
For me filmmaking is about collaboration and I'm especially glad when it is done in an inspiring, international environment. I was already triggered a lot by the basic idea of the BATESIAN project when I handed in my treatment the first time, but ever since the concept of BATESIAN Universe was born I've been thrilled by the idea of being part of a project that expands the borders by not just creating separate works, but steps to a transmedia level, aiming to create a whole universe.
Bálint's treatment: Memento Glori
Jan Pepermans & Dirk Dumoulin
Before, during and after earning a master's degree in scriptwriting at Sint-Lukas Brussels, Jan worked as a cleaner, dishwasher, copywriter, Elvis look-alike, receptionist and screenwriter. Apart from watching lesbian vampire movies, he likes to get up awfully late in the morning. After finishing a master's degree in Dutch and English literature and linguistics at KU Leuven, Dirk took additional courses in scriptwriting and film studies at K.U. Brussel. Apart from being a film aficionado (obsessions include the work of David Lynch, early David Cronenberg, seventies horror and experimental cinema), Dirk is also an avid concertgoer and record collector.
Jan and Dirk about BATESIAN:
"For us the main thrill of the BATESIAN project lies within the possibility it offers of working simultaneously with creative people worldwide. Online communication may be the ultimate means to merge the diversity of the authors' origins, styles and themes into a multidimensional imaginary world, both futuristic and dealing with contemporary issues."
Jan and Dirk's treatment: Epidermis
André Rios
André earned a Bachelor of Arts in creative writing and theatre arts at The University of Texas in Austin, Texas, USA. He is the author of the 2011 novel The Starfield Chandelier. He has worked as an informal screenwriting consultant and a script supervisor on the set of several films in the Austin area.  In addition to his work with Batesian Universe, he is currently organizing multiple action art works and seeking production venues for two original plays.
Andre about BATESIAN:
"Thus far, my only filmmaking experience has been as an amateur student. I am extremely fortunate that my first foray into professional screenwriting could be in collaboration with a diverse, international group of filmmakers, striving to bring a project to fruition that not only invites, but celebrates diverse voices, perspectives and talents. The learning curve for artists never ends. Working on Batesian allows us all to develop our talents both individually and from the collective. I'm thrilled to take a permanent 'skill shot' from each of my new colleagues."
André's treatment: The Passerby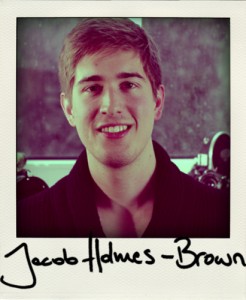 Jacob Holmes-Brown / 23 / Australia
He did his bachelor in media and information (film & television) in 2009 at the University of Technology in Perth, Western Australia. His film "Stormbreak" was shown at several festivals in Australia and the USA. Currently he is working on his first feature film "The Rag Witch" that will be finished in 2012.
Jacob about BATESIAN:
"Film-making has always been about collaboration at its heart and BATESIAN takes the risk to take it to the next level, and nothing is accomplished without risk. Through collaboration this film has the potential to reach audiences on an international and transmedia basis; the BATESIAN world can become more than just a film!"
Jacob's treatment: Wunderkind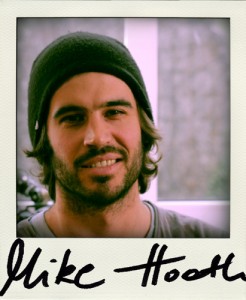 Mike Hoath / 28 / Australia
In 2009 Mike completed his degree in film and television at The Western Australian Screen Academy and secured his first professional directing gig on the children's television drama Castaway. In 2010 Mike had the honor of being named "WA young filmmaker of the year" at the Film and Television Institute's annual WA screen awards. He has directed a short film written by Oscar nominated writer/director Peter Templeman. In 2011, a short film he wrote called "Good Pretender" took out third place at the Doorpost Film Project in Los Angeles, winning the filmmakers US 15,000.
Mike about BATESIAN:
"Shooting a dramatic film with an unknown cast and crew in a foreign country would be the most rewarding and challenging experience of my career. I dig the skills transfer concept and all the questions that it raises. I think the films being interconnected and being six parts of a whole is an interesting idea and could provide wider exposure for the filmmakers than any short on its own could."
Mike's treatment: Hard Fall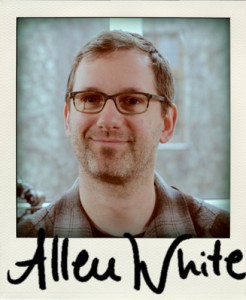 Allen White / 44 / USA
Allen is director, editor and author of numerous short web films and documentaries. He has authored film criticism and history  for numerous publications, including Film Threat and Greencine.com. He workes as a screenplay consultant for numerous clients.  In 2001, a feature 35mm film was made from his original screenplay, "Me & Mrs. Jones". The film screened at numerous festivals, and won awards for best feature and best film at the Black Filmworks Film Festival.
Allen about BATESIAN:
"Collaborative filmmaking offers the opportunity for many people to pool their talents and resources; but the reach and connectivity of the Internet allows for the creation of the kind of borderless works that were previously difficult if not impossible. It's wholly appropriate to make a film about how future technology changes peoples' lives using modern technology as the foundation for its production process!"
Allen's treatment: The Plumber
Jerker Beckman / 31 / Schweden
He is director, author, editor and sounddesigner or several shortfilms. He attended film workshops like European Short Pitch, Istanbul Express and Kino Euphoria Helsinki. Beyond film, he has written and produced about half a dozen full-length theatre plays. He is also a founding member of an art collective for a number of years, producing a large number of installations, festivals, clubs and art-themed parties.
Jerker about BATESIAN:
"I do believe that cinema in general and European cinema in particular needs to find new ways to be produced and enjoyed. BATESIAN seems like a great step forward into something new, a new way of looking at this art form: decentralised, collaborative, a bunch of small scale projects combined into one large one. This I want to be part of. I am drawn to the international aspect of the project."
Jerker's treatment: Catskills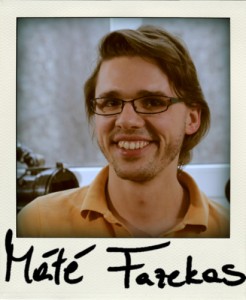 Máté Fazekas / 23 / Hungary
Máté  has won two prizes in Hungarian screenwriting competitions. One was the first prize at the National Pitch Forum for his screenplay "The Captain". Furthermore he won the price for the best screenplay for his shortfilm "Second Time" in 2010 at the National Student Film Festival.
Máté about BATESIAN:
"As I see, the strength of the BATESIAN project is its simplicity: young and talented filmmakers gather to create something new together. The opportunity this project gives to the participants is invaluable. For me it's very important to work in collaboration to gain experience and to have a view to the international practice. It is the best place to share ideas came from different culture and background to create something new and complex which support the value of the film to be made. After all, that is the most important aim for all of us."
Máté's treatment: The Brenger Experiment
Recent Activity
Thanks! Looking forward to reading your stuff. Marko...
[ READ MORE ]

... And the work goes on! We tried tightening the story and the structure, while still having fun with it. Jsut so you guys know we're s...
[ READ MORE ]

http://www.bbc.co.uk/news/health-20217737 this article gave me an idea: what if employers forced workers to be on skills in order to be ab...
[ READ MORE ]