PASSERSBY-NEWS-TICKER
The PASSERSBY is a short film that belongs to the BATESIAN Universe project. And it's the first one in production. The team is starting to shoot on oct. 17th in Montreal. They are going to publish updates and share their experiences with you on a daily basis until everything is done and we can all enjoy the film itself. So stay tuned and check this site frequently!
Update #15 · Oct. 24, 2012
Well guys, after months of work, dating back to the inception of the Batesian concept, long before even an outline of the script had been written, the first episode of the Batesian project has wrapped! We shot our last shot, cleaned up our set, finished up our behind-the-scenes footage, and many of us flew home to our respective countries.
But just because our Red Scarlet camera is back in its case, that doesn't mean "The Passersby" is all finished! Now editing begins, music composition kicks into high gear, and we make serious considerations regarding distribution and the festival circuit. And hey: we have wonderful donors to reward! Now we have the focus to get our gifts out to all of you! (And of course, you will all be named in our credits, unless you chose otherwise, but this comes a bit later).
Our budget served us well, and it is all thanks to you guys! We were able to secure our location, rent our equipment, insure said equipment and location and feed ourselves on set! But it came to a relieving conclusion.
We are so excited to be in postproduction…We can't wait to share our completed project with all of you!!
Best,
-"The Passersby" Cast and Crew
Update #14 · Oct. 20, 2012
Day three of shooting, behind the camera, everyone is having a lovely time! Despite this being the third twelve-hour workday in a row, everyone has remarkably high spirits and dedication. We are all passionate about our work, and it shows! A good rapport is key, a good chemistry under the flagship of a commanding but welcoming director, someone who forbids slacking but invites a creative workflow. Everyone on-set can attest to Joe Berger's responsible direction, Inka Malovic's sensitive performance, Connie Presich's excellent scriot work, Matthieu Elie's sharp eye…I could list every member of the team! Meanwhile the producers are conveniently close to the craft table, keeping a watchdog's secure guard over our humble budget. And while everyone has a specific role on the set, no one is above getting coffee for their companions or below having an opinion on the madness in front of the camera (the best kind of madness, of course). A team is what we are, and a large group of people can only make great art as a tight, well-led team.
So the work is hard,  but we know the rewards will be reaped. We are also playing hard with the behind-the-scenes footage, giving anyone who would watch a glimpse into the kind of fun we are having on set between takes and during meals.
Tonight will be a late night of shooting, so a few more rough hours are ahead. But dedication (and Red Bull) keep us going! Now, back to the fray….
"Und…BITTE!"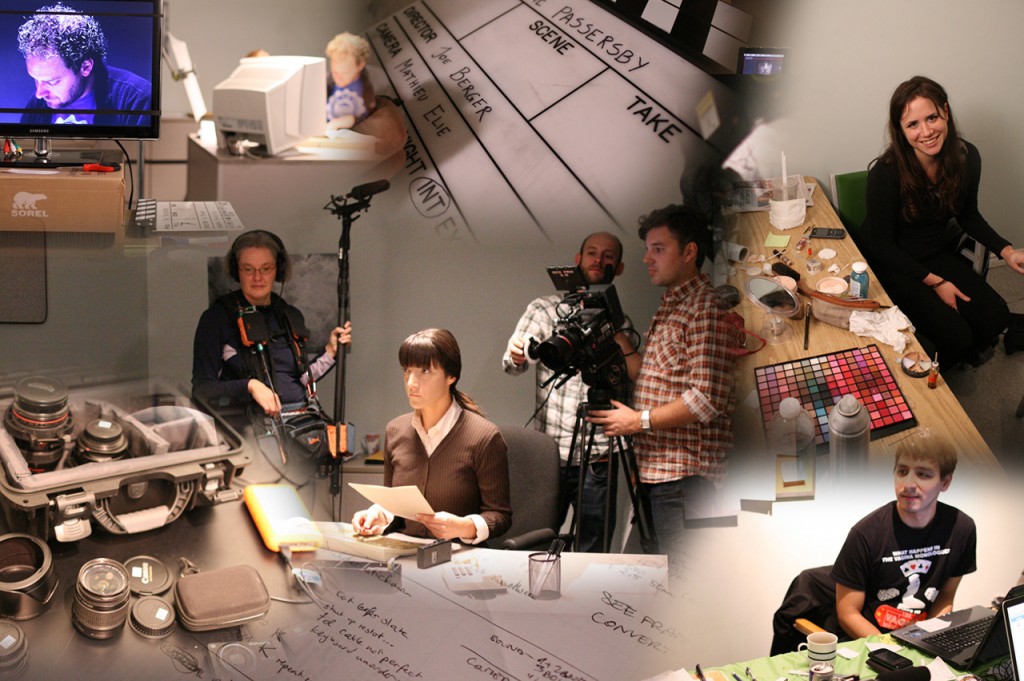 Update #13 · Oct. 17, 2012
Hey everybody! It's the 17th, so production has officially begun! The whole crew is on set, the camera is rolling (as of 10:00 AM Montreal time), sound is rolling, and the actors are performing at their best! It's thrilling that all of our preproduction has come together, and now eveything is camera-ready.
Without giving away too much abut the story, the office looks incredible! Conny, our 1st Assistant Director, has created wonderful art that looks fantastic through the lens. We have already wrapped on Alessandro, one of our supporting actors. And Inka and Frayne are hard at work.
Thank you, donors! Stay tuned for more!
–The Production Team
Update #12 · Oct. 14, 2012
Ironically, the least friendly people I have met in wonderful Montreal so far have been inside a church. I was scouring the messy tables of a charity flea market at St. Something's Chapel this rainy afternoon, looking for cheap, old office equipment that would be appropriate for our set, hoping to do so in time to make it back around the block to the Metro station before the rain got angry on me. Nearly all of the production crew spent today finding the right furniture, lighting, paint, and décor to suit our tiny room at the bottom of St. Something-Else (not to cheapen it, it's a gorgeous church), now the location of our one-room, one-woman prison of a set. An essential set piece remains to be installed, requiring a bit of minor construction work, but it's nothing too intense for our crew! If we can weather the weather, we can build a building.
Tomorrow is the first on-set dress rehearsal. Having seen Inka in costume for the leading role of Berta, it's incredibly exciting! An inanimate being who has dwelled only inside my head for so long is now a living, breathing woman…with all of her lines memorized.
We are all so happy to see the necessities come together, and it has been a scramble, but very much worth it. Of course, it's no time to celebrate: the most intense work is about to begin!
As a screenwriter, I was shocked to not only be invited into the production team, but be embraced by it. I may even take on an offscreen role, given the lack of native English speakers here (and my excessive natural talent, obviously). I've heard shame stories of someone pointing out the film's author and asking "Who is this? Oh, the screenwriter? Why is he here?" But this is truly a filmmaking experience that is not only hard-working and (eventually) effective, but fun. Director Joe Berger eradicates any source of negative energy or bad vibes in the team and does it with a smile. Not like a sociopath, but like a dedicated professional who is also friendly and human.
Oh, and I have to take a moment to thank the staff of Kino00 (find them on Facebook), whose assistance, equipment, wonderful meals and central heating make this experience much easier on all of us and allow us to focus on the hard work. Speaking of which….
Thanks for reading, thank you kindly for donating, and we will back with another update soon!
–André Rios (Screenwriter, Producer, Set Decoration Assistant, Language Coach, Voice Actor, obsessed with my titles)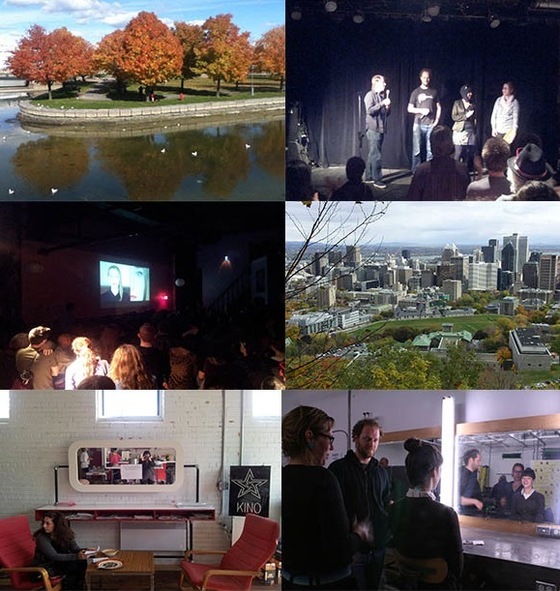 Update #11 · Oct. 11, 2012
And now, here is a look at two all-new members of the team!
1.) Frayne McCarthy, actor, supporting male role
Frayne is a bilingual performer whose stage roles have taken him throughout Europe and across Canada. Frayne is also a writer and director of children's theatre for the Turtle Island Theatre Company; he's collaborated with Daniel Boulerice on the musical "AutoPortrait" for the National Arts Centre of Canada; and most recently, working with composer and musical director Blair Thomson, he wrote and directed "The Virgin Courtesan" for Music Theatre Montreal. Coincidentally, Frayne also studied Studio Fine Arts at Heritage College and the University of Ottawa, where he trained as a painter and sculptor. His "skills" are available for the asking.
2.) Alessandro Merlo, actor, supporting male role
Alessandro is a university student studying Business. He has always had a love for acting and film. He started acting a few years ago in an ambitious independent film, for which he took the leading role. He has since been taking steps in perfecting his craft and augmenting his experience, now continuing with this wonderful project!
We welcome both of them! See their photos below (Frayne, Alessandro).
Cheers! Another update is soon to come! Thank you for your involvement!
Update #10 · Oct. 11, 2012
The night we received the delightful news that our funding goals had in fact been achieved, we pitched our film before the organizers and attendees of Kino00 in Montreal! Check out a (blurry) pic below of a few of us sharing our vision and last-minute needs. Things we can now pay for!
Shooting has been pushed back to the 17th of October, 2012 to make room for an excellent, reputable Director of Photography. This gives us tons more time to make sure everything else is perfectly organized; top of the list: we need food! Who knew?
And now, here is a look at two all-new members of the team!
Update #9 · Oct. 10, 2012
Dear Supporters,
Thank you so very much for your pledges. With your support, we have reached our $2,000 goal, and can now work to create the finest film we can! We promise to return your generosity with gratitude, frugality and an excellent completed project.
We cannot express our gratitude enough, but our pledge rewards are a start! We will notify each and every one of you soon regarding your special gift.
We will also continue to keep you posted on every milestone of the production! Our director projects that we will approve the final cut in the middle of November 2012! Stay tuned, you wonderful, wonderful folks!
Again, thank you!
–The Passersby Cast and Crew
PS We may have reached our goal, but hey: contributions are still welcome! Think of what $2,500 could do!
Update #8 · Oct. 08, 2012
It's been a long proces of treatment and script development since November last year when The Passersby was chosen to be one of the 6 shorts of the BATESIAN project.
And here we go 11 month later, after long collaborative discussions on our  on-line forum we have the 5th version of script and it's THE FINAL ONE! :)
It's neatly bound and ready for the shoot!  This is the copy we will carry on set when shooting begins (only a few days to go)!
We have a few last rehearsals and meetings before principal production. We are all so excited to get started!!
Check out the photos of the official script below. Many if you delightful donors will receive a copy!
Update #7 · Oct. 06, 2012
After countless Skype calls and emails during the pre-production period, our international crew members who never met before finally arrived in Montreal and met at Kino screenening where they pitched the project in order to find more crewmembers for the missing departments such as DOP, sound, CGI, costume & wardrobe.
We are now talking with many specialists who expressed their wish to work on this short film. We also finally chose our main actress – beatiful and talented Inka Malovic!
We also set up the dates of shooting for 12th-14th October and reshoots and additional shots on 17th and 18th. The screening of the rough cut version will be on 20th October at Le Theatre Rialto in Montreal which gives quite a lot of pressure on our editor, but we believe we can do it!
We are ready to work day and night during the upcoming days! Stay tuned for more deatils…
Update #6 · Oct. 04, 2012
Check out the video below of screenwriter Andre Rios as he begs for money, currently en route to Montreal just days before shooting begins!
Update #5 · Oct. 03, 2012
Most of the crew members of The Passersby come from "Kino Movement" – a worldwide network of independent filmmakers who are gathering at filmmaking workshops, so called "Kino Kabarets" and are making films together without any competition, just for pleasure of creating art and films in an international environment of openminded creative people.
It originated in Montreal, Canada in 1999 and that's where we are actually going to shoot our film (Kino 00). The whole BATESIAN project was iniciated by KINO 5 in Vienna and other international Kino members from other countries joined later, such as Kino Praha, Kino Helsinki and is supported by many other kino groups worldwide.
Having this international network is also a reason why we can menage this international collaboration sucsesfully. We already have well developped tools of communication, we can rely on each other even if we are not sitting in one office together and doing the pre-production in different countries and different time-zones.
We are choosing our other crew members from this Kino network – it is a way how we can make a low-budget film with people who we can trust and who will be dedicated to work with us for free even with such a small budget as we are targeting during this KICKSTARTER campaign. We like making films not for money, but for the action and experience. We are excited to do this project together and we thank all who supported us already!
From Kino with love…
Update #4 · Oct. 02, 2012
We just created a brand new KICKSTARTER trailer video. We hope that it will help you to understand our project better. We have 8 days to go before the KS campaign is over and before we start to shoot on October 11th. We are flying to Montreal THIS week, we are all full of expectations, getting nervous, but we believe that all our 1 year voluntary work on this project will get sucesfully done and that we make a KICKASS short which will be the opening film of the whole BATESIAN project!!! Thanks everyone who already supported us!
FINGERS CROSSED!
Update #3 · Oct. 01, 2012
Our design department (JUDITH MEISTER, JOHAN TALI, OSAMA) in Vienna are busy working on the final designs of the skill extractor interface which is placed behind the ear of the skill donor and they are also producing the skill inhalators which are used by the skill consumers and which is one of the rewards for our pledgers:
This is the final model of the interface (see the pictures below). The flagella stuff (the organic strings in the bottom) will be inside the skin, connecting to the body. The end of the strings will lead to a processor, which sticks on top and is visible on the skin. When skills are extracted, a capsule is placed on top. The strings, like roots, collect the skills from the brain, through the processor into the capsule. The shorter side of the triangle is 2cm (length),  the height is 2 mm.
The first models for the skill inhalators are recently being designed. Inside the inhalator there will be the capsule, filled with a neon liquid (fluorescin). The inhalator has a oval form and will have patterns on the smaller part, similar to the device. The small piece with the 2 holes is the mouthpiece, through which the user inhale. The capsule is visible in the gap in the middle. When it is used, the two parts get pressed together. Then the gap is closed and the capsule is not visible anymore. The material we use for the real inhalators will be epoxy. Epoxy is similar to plexiglass, a hard plastic with a transparent structure. The epoxy can be coloured- we chose the transparent colours like blue, orange and green, so the capsule inside always stays visible. The pictures of designs are coming soon!
Update #2 · Sep. 26, 2012
Hello everybody!
Once again, we thank those of you who have pledged your support! To those of you hesitating, don't wait! We promise this is a project worth your support and involvement.
We would like to introduce Valentina Oresic from Croatia (based in Montreal) as a fellow production coordinator, Conny Presich from Vienna Film Academy as 2nd AD and continuity and Tamara Scherbak from Germany (Montreal based) as editor! As you can see, we keep our crew very INTERNATIONAL! We will introduce more crew members soon!
Check out their information alongside the rest of our bios!
Update #1 · Sep. 23, 2012
Thank you to those of you who have pledged so far! "The Passersby" is coming together bit by bit…Our tickets are booked, the director is perfecting the script; spots on our crew list are being filled every day: composers, production managers, graphic designers — we're getting it all!
Director Joe is coming to a final casting decision, and soon we'll have a complete crew list! Look for this soon…. ;)
Our work thus far has been through the virtual world of Skype, via email, by means of Facebook and other social media. But very soon, we'll come together in Montreal! We're all excited to unite!! Everyone is rolling up their sleeves, bringing their skills together to make this an entertaining, thought-provoking, thrilling short film.
All we need now is you! With just over two weeks to go before shooting begins, we very much need your support! Pledge any bit you can to help "The Passersby" live up to its true potential. Shooting begins October 10th, 2012!! Get involved, we promise you won't regret it.
***Still on the to-do list: get our funds in order….
Recent Activity
Thanks! Looking forward to reading your stuff. Marko...
[ READ MORE ]

... And the work goes on! We tried tightening the story and the structure, while still having fun with it. Jsut so you guys know we're s...
[ READ MORE ]

http://www.bbc.co.uk/news/health-20217737 this article gave me an idea: what if employers forced workers to be on skills in order to be ab...
[ READ MORE ]