"The Passersby" in production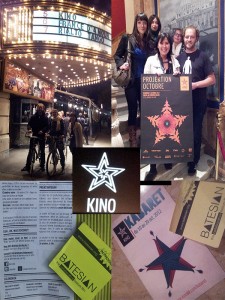 Part of our international BATESIAN team is currently producing the first short film from the BATESIAN Universe series called "The Passersby".
We are going to shoot this low-budget short film during KINO 00 in Montreal in "Kino style" mode which means that all the crew is working FOR FREE on the production and postproduction and in limited time of the duration of Kino Kabaret Montreal from 10-20 October 2012. We are aiming to do high-quality film with very little resources and 100% commitment.
The pemiere of the film is planned for the closing night of Kino Kabaret in Montreal on 20 October at Théâtre Rialto (5723, avenue du Parc, Montréal) at 8 PM.

In order to be able to produce the film, we estimated the minimum budget of 2.000 USD and therefore we would like to ask you for a little support at KICKSTARTER:
"The Passersby", short film script by US screenwriter Andre Rios, focuses on the crushing scrutiny we place on ourselves and one another, exacerbated by a technology and trade that makes our abilities redeemable as commercial goods. In this fictional world of skill transfer and trade, one New York City businesswoman has no skills to offer–and loses herself in a plot to corrupt the skill transfer corporation that simultaneously employs and demeans her. Berta, a kind and timid woman employed by Globability, a major corporation in New York City, exists in a lonely cell of an office, unable to donate skills her own company deems unsellable. No one knows her name except her insecure boyfriend, Paul, an artist dependent on Berta for affirmation, absorbing her compliments while feeding her none. When Berta reaches her breaking point, unable to tolerate her own mediocrity and invisibility, she rebels against the comopany–interfering with its technology–severs her poisonous relationship with Paul and scares off her demeaning coworkers, eventually isolating herself completely and accepting her status as the "anti-skill".
Director Joe Berger from Austria says:
"I'm looking forward to working together with such an international team on the set of "The Passersby". It will surely be a challenge to build up the tension and suspense in this story that only plays in one room with one character. But if it all comes together I think the film will be well worth the effort and I can't wait to get started!"
Recent Activity
Thanks! Looking forward to reading your stuff. Marko...
[ READ MORE ]

... And the work goes on! We tried tightening the story and the structure, while still having fun with it. Jsut so you guys know we're s...
[ READ MORE ]

http://www.bbc.co.uk/news/health-20217737 this article gave me an idea: what if employers forced workers to be on skills in order to be ab...
[ READ MORE ]